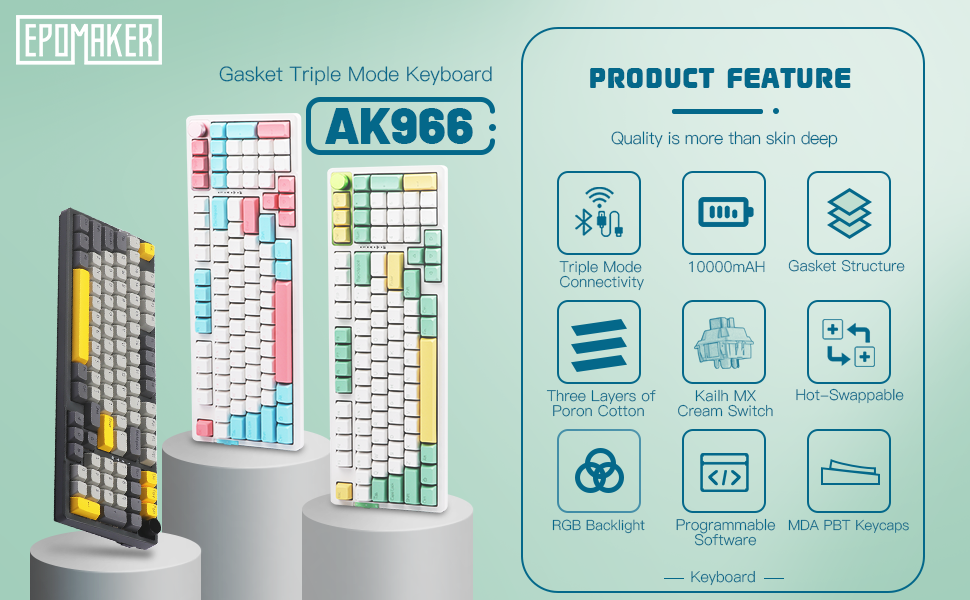 Gasket Mount Hot Swappable 96 Keys keyboard
Ajazz AK966 is designed in a more compact layout compared with traditional full size. It maintains function keys and also included a separate volume knob for easy operation. Gasket structure and PC plate provide a more soft typing experience. With hot swappable feature, this keyboard would be an ideal one for every occasion.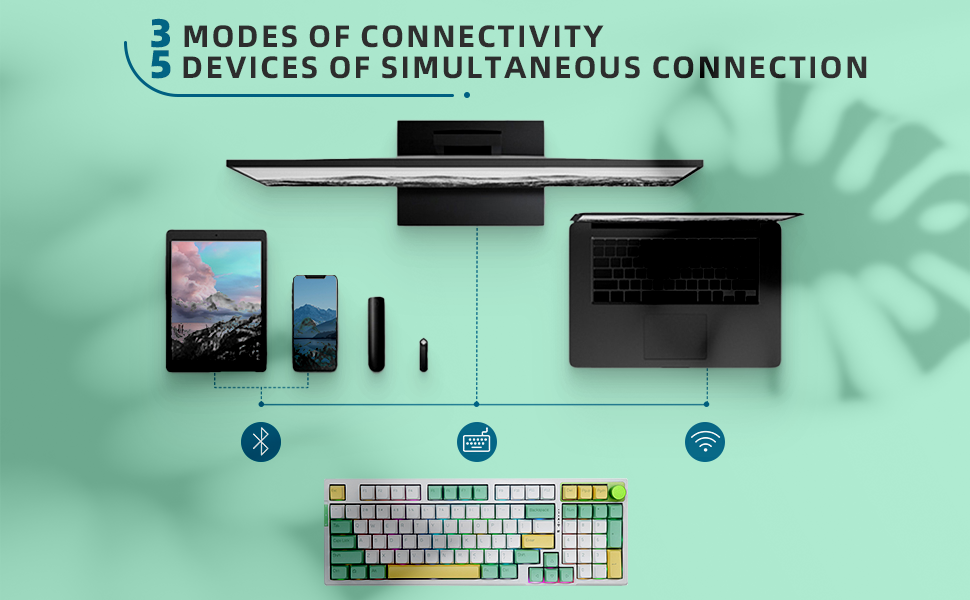 Triple Modes: Type-C Wired, Bluetooth 5.0 & 2.4GHz Available
The Ajazz AK966 supports connection via Bluetooth or 2.4GHz for wireless connectivity, or with the included Type-C USB cable. With Bluetooth 5.0, it easily connects seamlessly with your devices within 10 meters. The keyboard is also easily switched among the three modes for efficient multitasking and speedy performance.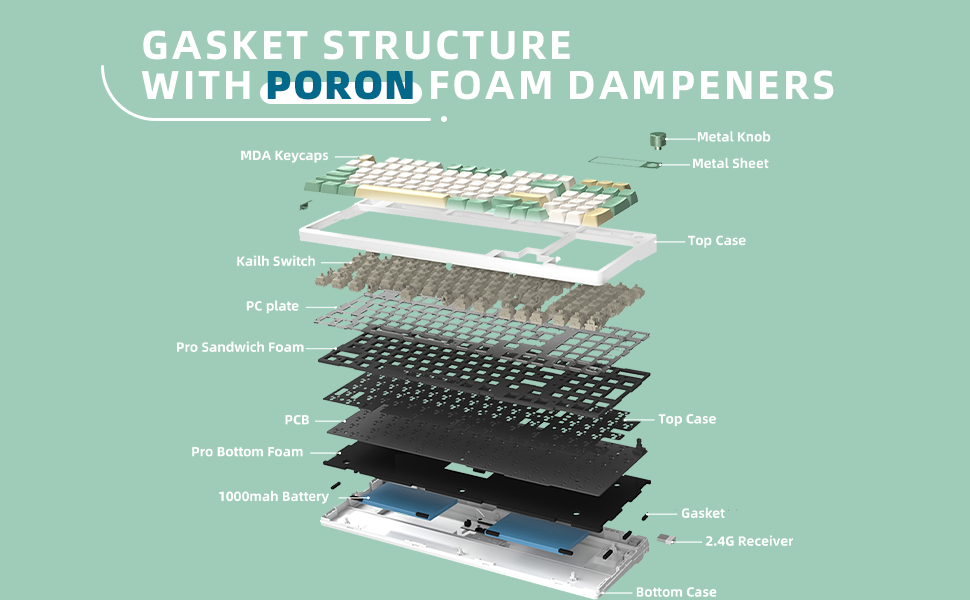 3 Layer Poron Foam for Sound Absorption
To maximally avoid hollow sound, AK966 adopts three layers of Poron foams in total. These foams are placed respectively at the bottom of the case and between the PCB and PC plate. In this way, the typing sound is more solid and hollow sound is greatly eliminated.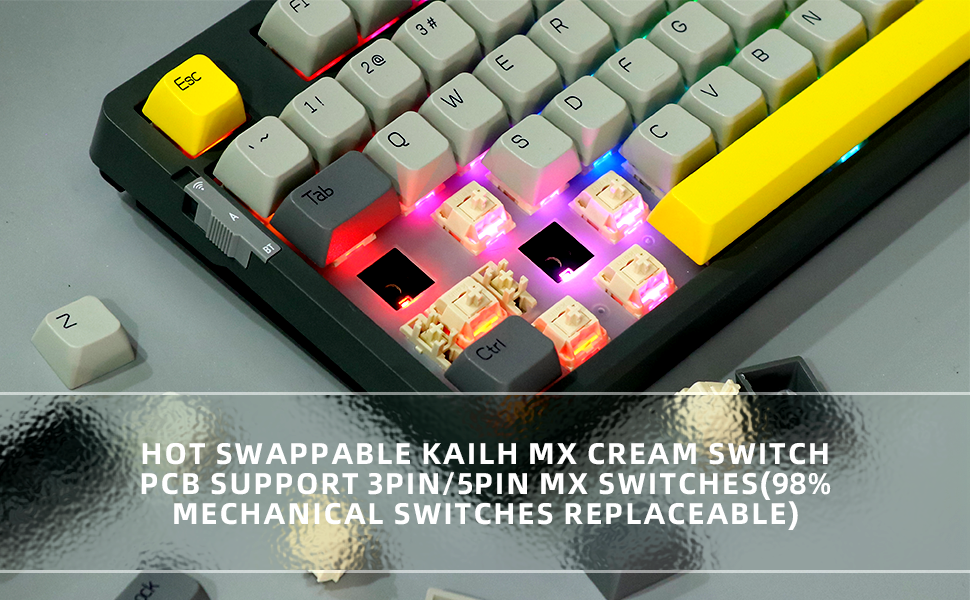 Custom Kailh Cream Switch
Ajazz AK966 features acclaimed Kailh cream switch for the whole keyboard. This cream switch is factory lubed with smooth typing feeling. Made of high quality POM material and metal contact, this 55gf switch provides fast response, efficient operation and enduring lifespan.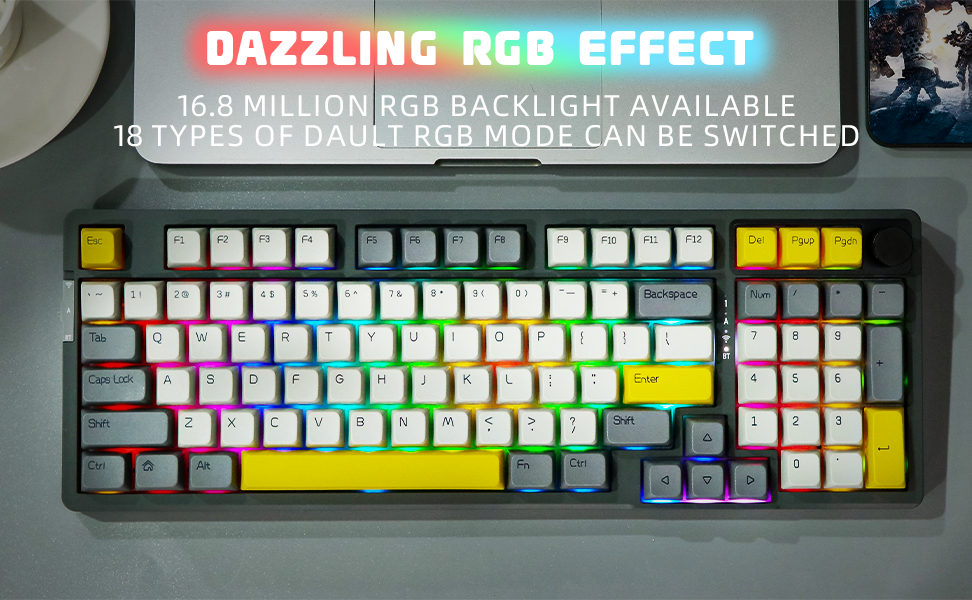 10000mAh Large Capacity Battery & MDA Keycaps
We understand your concerns while using a wireless keyboard thus AK966 adopts a built-in 10000mAh batter for up to 1200h standby time with lights off and 50 hours worktime with lights on (based on lab testing). No more worry about running out of battery, simply enjoy. MDA profile PBT keycaps is ergonomic to type. No fatigue even after long time typing.
Tips for Connection
– 2.4G connection: switch the left side button to 2.4G mode and then plug in the 2.4G receiver in your computer
– Bluetooth connection: switch the left side button to Bluetooth mode, long press FN+Q/W/E about 3 seconds to pair; search for AK966 BT5.0 on your device to pair it
– Wired connection: switch the left side button to wired mode and plug the cable in your device